Crumbs Everywhere
Both toddlers are sick and have to be carted off to the pediatrician.
Doc doesn't get in until 11am.
My kids? They loooove Dr. Weiner.
Yes, they love the man.
So what do they do from 7am to 10:20am?
Whine.
"Mommy, can we go see Dr. Weiner now?"
As soon as he gets in.
"But mommy, I'm sick."
I know, but Dr. Weiner's still home, he's not at the office yet. We have to wait.
"Ooookay mommy."
15 minutes later…
"Mommy, can we go see Dr. Weiner now?"
same conversation.
10 minutes later…
"Mommy…"
Damian? Wanna go see Dr. Weiner today?
"Yes mommy! Yes!"
Then stop asking me and wait until it's time.
"Ooookay mommy, but I'm sick."
Yes I know Damian.
"Mommy?"
Yes Tash?
"Damian's sick."
I know Tash.
"Mommy?"
Yes Tash?
"Can we go see  Dr. Weiner?"
Yes Tash, when it's time to go.
"O K Mom Mee. But I'm sick too. I need to go see Dr. Weiner"
15 minutes later…
both convos, in stereo, along with pulling at my pants while I sweep crumbs from breakfast.
Really?
And how do sick children still find a way to make a mess?
Ask them to put their breakfast dishes in the sick…"But mommy, I'm sick"
Fine. Mommy will do it.
Yet two hours later, when I'm rushing out to get to Dr. Weiner's office, there's a rubber ducky, 3 lego blocks and Damian's favorite blanky – sopping wet – in the sink.
Really?
Freaking, really?
Natasha has a cold.
Damian has seasonal asthma.
What does the dr. give me for the asthma.
Albuterol of course.
It helps with wheezing by opening the air passages.
It also makes your kid act like they just drank a 2 Liter of Coke in 5 minutes.
So I give them lunch.
Then Damian takes his medicine.
Ever come across Twitchy in Hoodwinked? Very very similar.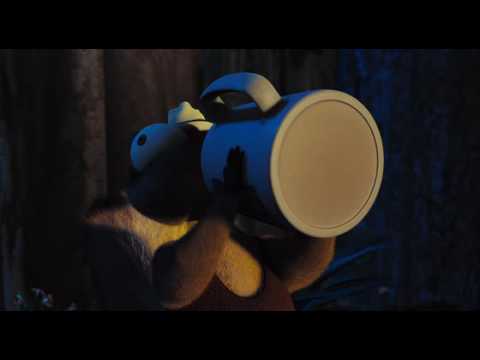 three hours later, Damian and Natasha crash. Of course this is 2 hours past naptime.
So I work. As I work I think about the mess in the livingroom and the kitchen that still needs taken care of.
Can't take it anymore, haave to clean the livingroom. Easier to do when they're sleeping.
Pick up toys, put away clothing, take cups into the kitchen.
Brush out the couches.
Kitchen's too drafty for them to eat at the table.
And it's a mess.
But now I have two messes to clean.
Sweep again.
Crumbs everywhere.
Head back to my desk.
Two solid hours of work done.
Teens and hubby will be home soon.
Pouring outside.
Kids are sleeping longer.
Gotta get soup on.
Dinner's simmering, kids are awake.
Hubby and teens are home.
Older teen isn't feeling well.
Has soup, goes to bed.
Younger teen is swamped with homework.
Hubby and I take a kid each and try to feed them soup.
Damian only wants the potatoes and barley.
Tash only wants the broccoli and carrots.
They whine every time we try to feed them the other ingredients.
I give in, just feed tash all the broccoli and carrots from the soup.
From the whole pot as I went back for seconds and thirds.
Time to get back to work.
Hubby cuddles with them in front of the tv.
I've got 2.5 hours to work before bedtime.
Then I remember, Damian needs another dose of albuterol.
Hubby doesn't know the efects.
He'll find out soon enough.
Head back to work.
Two and a half hours later, we put them to bed.
I head into the livingroom.
Look around.
Hubby didn't warn me.
Creep.
Head into the kitchen to put cups in the sink and to grab a grocer bag to throw tissues and wrappers in.
Grab the broom too.
Pick up toys.
Fix cushions.
Brush crumbs out of the chairs.
Crumbs everywhere.
Sweep again.
Pass out without changing my clothes.
Up at 3:45am.
Work again.
6:45am older teen wakes up.
"Mommy I'm sick"
symptoms lead to a mommy diagnosis of strep.
back to the doctor again in a few hours.
Alison's post, Digging Deep, inspired me to share today.
Reminded me I'm not the only one.
Can you relate?
Need to find the humor in it all?
Check out Momfever's Humor in Motherhood. I love her ending tip: "Finding the humor in motherhood, is making sure the joke isn't on you."